About Us
Millions of tons of waste enter Tucson's landfills each year, and one-third is composed of organic materials that could be diverted and transformed via composting. Started in 2011, Compost Cats was the only organization in Southern Arizona accepting large volumes of food scraps, manure, brush and other landscaping materials. During this time, Compost Cats diverted over 20 million pounds of organics from local landfills, making it an invaluable component to waste management and broader sustainability efforts at the University of Arizona and across the region.
In late 2018, Compost Cats transitioned out of the College of Agriculture and Life Sciences Cooperative Extension and into the Office of Sustainability. Since this transition, we have been busily realigning the program with the University's strengths in education, outreach, and research. Here is a recap of our recent activity:
March 2019 - Compost Cats stopped accepting all compostable materials at its primary operational site, San Xavier Cooperative Farm (SXCF), in order to facilitate a transition to a new compost facility at Los Reales Landfill, working much more closely and collaboratively with the City of Tucson. 
May 2019 - Discussions began in order to transfer the responsibility for operating the Los Reales composting facility over to the City of Tucson. Such a move would enable Compost Cats to focus on other areas of the composting program that better fit students' needs and the University's strengths.
June 2019 - Significant work started in order to responsibly return management of the current Compost Cats site back to SXCF. This work is still ongoing, but is expected to be complete by Fall 2020.
July 2019 - A new full-time Program Manager, Dr. Ilse Rojas, was hired and trained to support the transition and continued operation of the Compost Cats program.
Fall 2019 - Compost Cats worked closely with the City to obtain the necessary permits and waivers from the Arizona Department of Environmental Quality to start a compost facility at Los Reales Landfill, all of which received approval.

The Los Reales Landfill Compost Facility is currently scheduled to be operational by early 2021.

Spring 2020 - Compost Cats is currently drafting a new intergovernmental agreement with the City that realigns Compost Cats' efforts toward commercial business onboarding and training, K-12 education and community outreach, materials sales, research facilitation, and more. We expect this to be complete and approved by the end of September 2020.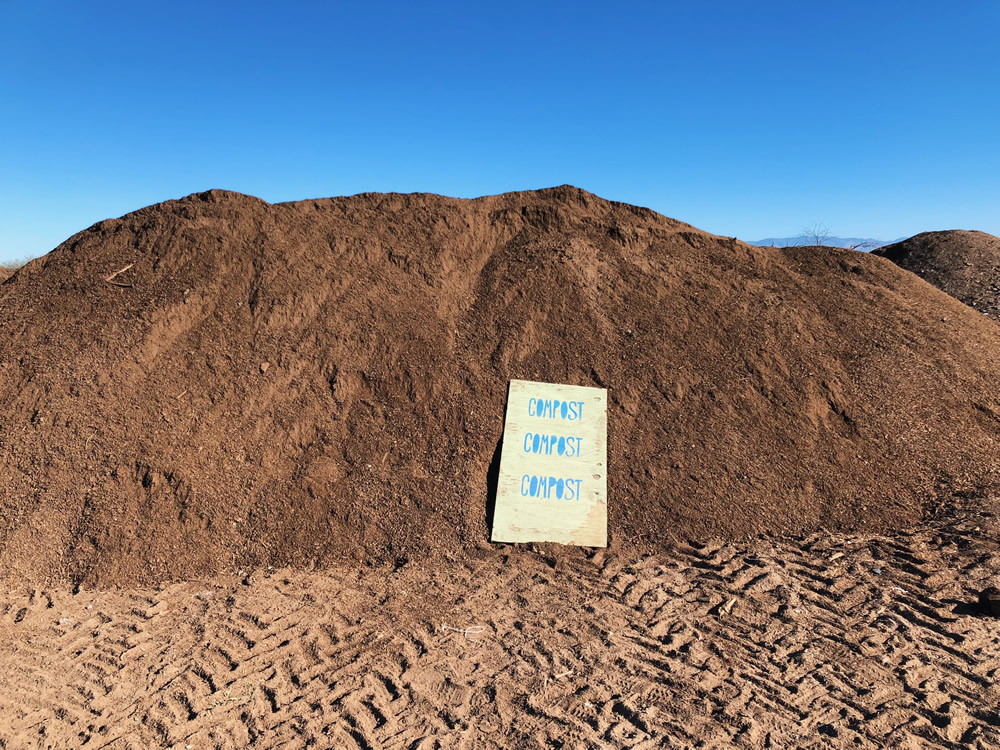 What is Compost?
Composting is the natural process of transforming organic material such as leaves and vegetable scraps in an oxygen-rich environment into a nourishing soil amendment that gardeners fondly nickname "Black Gold." Compost is rich in nutrients, and it promotes soil microbes that aid plant growth.
Compost energizes the soil food web, which is made up of microscopic bacteria and fungi, along with earthworms, crickets, and many other life forms. Many fungi form symbiotic, or mutually beneficial, partnerships with plant roots, making it possible for plants to feed themselves more efficiently. Research shows that compost enhances the ability of many plants to stand up to common diseases and, in the case of edible plants, may improve their flavor and nutrition, too. Compost also helps the soil retain moisture. Through composting, you enhance your garden's ability to grow healthy plants, while simultaneously reducing your volume of trash.
Why Compost?
Composting can help avoid the generation of harmful new greenhouse gases like methane, which stems from the decomposition of organic waste in landfills. Greenhouse gases, including methane and carbon dioxide, trap heat in the atmosphere and are directly responsible for the current climate crisis. Composting also promotes the sequestration of carbon in soils - that is, the long-term capture of carbon dioxide from the atmosphere, and its subsequent storage in soil, plants, and geologic formations, where it is less harmful. In this way, the composting practices of Compost Cats demonstrate a cradle-to-cradle philosophy, wherein nothing is wasted. Former food scraps and organic debris that once would have been discarded can now become nourishing fodder for the growth of new food sources and beneficial vegetative ground cover. And of course, compost is great for local gardens
Additionally, all landfills have a lifespan, and many are rapidly approaching capacity. By diverting a portion of the current organic inputs entering local landfills, Compost Cats is helping to keep them from filling up as quickly, extending the lives of these landfills significantly and reducing the need for new ones. Because landfills are often situated in or near marginalized communities, these communities can experience a disproportionately negative impact on local public health, safety, and environmental quality. Through waste diversion and materials cycling, Compost Cats helps uphold environmental and social justice, ensure equitable access to natural resources, and improve wellness for all.
Food Security & Experiential Learning
As critical as waste interception and diversion are to Compost Cats' mission, the organization's goals have also grown considerably beyond these efforts. Compost Cat's scope of work now includes initiatives that enhance food security in Southern Arizona, expand student workforce development, and elevate environmental justice education and programming. According to the Community Food Bank of Southern Arizona, almost 19% of Tucson's population lives in poverty, and 15.4% of our community are food insecure. Food insecurity is defined by the U.S. Department of Agriculture (USDA) as a lack of access to adequate and nutritionally sound food for a healthy, active life, due to economic and/or social conditions. Over the last few years, Compost Cats has been increasingly involved in the redistribution of still-edible foods to groups like the Community Food Bank and the University of Arizona Campus Pantry.
Through participation in the Compost Cats program, student employees are afforded unparalleled career-based, experiential learning opportunities, and are given the chance to interact with a wide array of stakeholders through innovative partnerships with local non-profits, government agencies, and Tribal entities. Increasingly, Compost Cats students serve as ambassadors for service, engagement and collaborative leadership throughout the Southwest. More than 100 students have been employed by Compost Cats over the past nine years, and have built a valued, productive and expanding program through creative community partnerships and novel thinking.
It is the Office of Sustainability's goal for Compost Cats to continue its enduring environmental and social legacy in Southern Arizona. For more information about Compost Cats, and to stay updated on the latest happenings, please visit the Compost Cats Facebook or Instagram. A new website is in the works!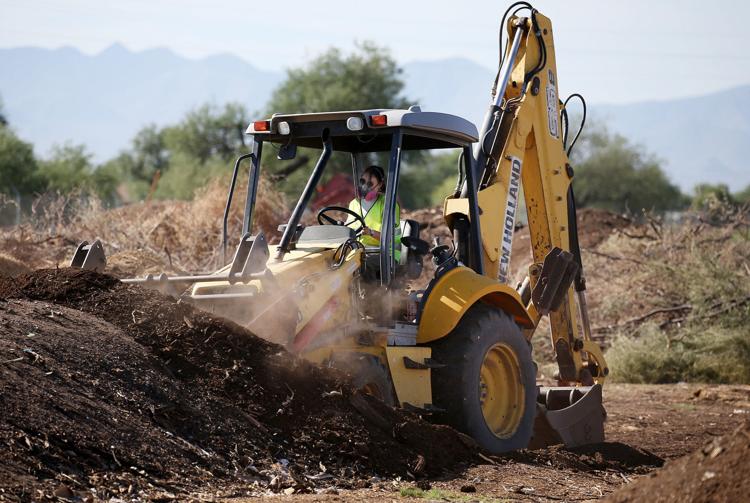 Looking to Drop Off Compostables or to Buy Compost?
Until the Los Reales Compost Facility opens in January 2021, the best way to divert your compostables from the landfill is to check with local community gardens, Tucson Village Farm, and/or Watershed Management Group to see if they are able to accept compostables.
At this time, please do not bring any compostable material to the University of Arizona Community Garden. Due to the Coronavirus pandemic, the amount of material coming to the Garden has increased dramatically, while the capacity of our students to maintain the compost system has decreased. We will update this page when we are again able to accept new material.
To request more information on Compost Cats, please contact Dr. Ilse Rojas at rojasi@arizona.edu, or call 520-621-5653.
Interested in supporting Compost Cats? Donate here or please contact Trevor Ledbetter, Director for the Office of Sustainability, at tledbetter@arizona.edu, or call 520-621-1760.
Compost Cats is proudly supported in part by the Kroger Company's Zero Hunger Zero Waste Initiative for 2020-2021.